Corporate Activities
Educational Activities
We provide many kinds of workshop such as lecture of "Basics of steam", "The role of steam traps", and "Operating principle of steam traps", and experience-based seminars by using demonstration equipments in MIYAWAKI head office factory.

In addition, we also provide experience-based seminars for enhancing of steam, steam trap, and steam trap mechanism understanding as part of our new enployees education programs.

MIYAWAKI would like to contribute to training of energy-saving and steam specialist through providing opportunities to enhance knowledge of steam and steam traps.
Environment Activities
Since 2012, we have been cleaning up around head office factory once a week as a part of environmental conservation and regional contribution activities.

All MIYAWAKI members not only employees but also board members take part in the clean up activities.

Thus, it also leads to an opportunity of interaction with people who are not involved in theire usual work.
Improvement Activities
We implement some activities to reduce work errors and improve operational efficiency every day.
Our manufacturing division members made an original jig as one of these activities.
The jig can be used to measure flange bolt hole diameter by only inserting the jig into the hole.
It improved work efficiency thanks to easy hole measurement without using vernier caliper.
MIYAWAKI is committed to create products which satisfy customer's needs through such improvement activities every day.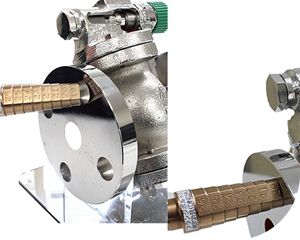 Promoting Actively Participation Women
MIYAWAKI has been actively promoting women's active participation in recent years.

We have actively promoted the improvement of "Women's active participation", "Harrasment prevention", and "Taking child care and family care leave". These actions are recognised by Osaka city, Japan, and we are certified as "Leading Company with Actively Participation Women in Osaka city" from Osaka in 1st December, 2020.

We will actively keep the development of comfortable working environment where all employees can harmonize work and life, and show their abilities fully.
Donation Activities
In March, 2021, we donated to "Osaka Helping Fund for COVID-19" in Osaka.

In order to prevent the spread of COVID-19, we donated to show greater appriciation for essential medical workers.

We also have been making donation to a welfare facility for children as regional contribution activities once a year.

MIYAWAKI will keep some activities such as donation for leading to social contribution according to our company mission statement, "Social Contribution".
CSR activities
We were certified as "Superior Report Corporation" by Higashi-yodogawa tax office in 25th November, 2019.

"Superior Report Corporation" is the system that corporations which is superior financial information, particularly fill exact tax return and accounting, and can be expected to keep filling exact tax return for future are selected and certified within tax inspection conducted once five years.

It is said that the less than 1% of all incorporated companies in Japan is selected.

We believed that the honored compliment fulfills a part of MIYAWAKI company mission statement, "Social Contribution".

We will make our social responsibilities through exact tax return and tax payment, and keep making an effort to contribute to the local community.