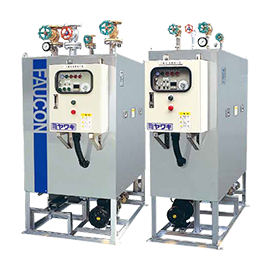 High Capacity Steam Fired Instantaneous Hot Water Heater FAUCON | Circulation System

It is suitable for a wide range of applications such as cleaning and sterilization of food processing equipment, cleaning for factories, baths and showers.

●Due to indirect heat to cold water, the bolier water from the boiler does not mix with hot water and it provides clean hot water.
●There is no mixing sound of steam and cold water so that the environment of the installation site is not spoiled.
● Always supply hot water with constant pressure.
●Smoothly responds to fluctuations in hot water consumption and hot water supplied at a stable temperature.
●The system starts in the moment just by switching on, supplying hot water at suitable temperature in just a few minutes.
●Periodic inspections and notifications to government offices necessary for storage tanks and pressure vessels, and operator qualifications are not required at all.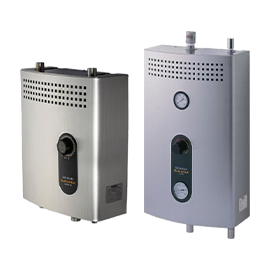 Hot water is widely used in the industrial field as well as steam.
For a safe and economical hot water system, MIYAWAKI offers a tankless steam fired instantaneous water heater. We respond to various hot water needs.

●Suitable for supply of hot water
●Easy maintenance
●Clean and eco-friendly
●High thermal efficiency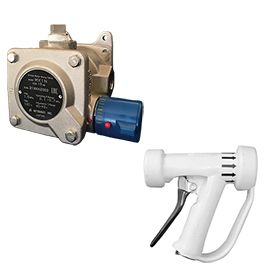 MIYAWAKI designed a valve which mixes steam and cold water and controls thermostatically the outgoing hot water. Hot water will be produced only, when the hot water outlet will be opened.
This Steam-Water-Mixing Valve is useful in all places where is a need of hot water for various industrial purposes. There is no need for additional heat exchangers or boilers.